STAGE RAW 
Reviewed by Paul Birchall

RECOMMENDED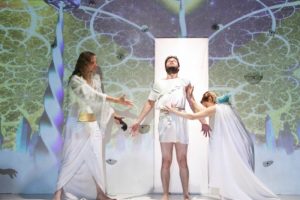 J-Walt Adamczyck, Zack Davidson and Marguerite French in Paradise Lost: Reclaiming Destiny at Greenway Court Theatre (Photo by Anthony Roldan)
You don't need to brush up on your Milton to enjoy this splendid adaptation of his great epic Paradise Lost, which tells the story of Satan's consignment to Hell and Adam and Eve's fall from Eden. Jones (Welsh) Talmadge, creator of this gorgeous and dynamic shindig, has crafted the work into a ballet, with Cirque Du Soleil-like acrobatic undercurrents.  But while Paradise Lost has been set to dance before, Talmadge's production melds technology into the mix, balancing the movement with adroit video images, which are controlled by handheld joysticks held by the dancers while they dance. The result of all this is a production that feels entirely original and creative — but still packs the emotional impact of its source material, rendered with sincerity and total commitment.
The play starts in Heaven, where a Father God (J-Walt Adamczyk, who also designed the stunning videography) and a Mother God (Marguerite French) wave their computer mice and create a universe which explodes on the white screen behind them in bursts of stylized color. They also create a giant band of gymnastically agile angels, as well as a handsome and beloved Son (Zachary Reeve Davidson) who is allowed to manipulate the holy mouse of creation, just like his parents.
One single angel (Talmadge) becomes jealous of the Son and tries to seize his creative power. This angel's pride, which leads to his eviction from Heaven, not only turns him into the Satan we know and hate, but also creates the vile forces of Sin (Laura Covelli) and Death (James Bane). Simmering in the Hellish world they've made for themselves, the Demonic Crew (joined by some wicked angels also tossed from Heaven) scheme to regain their former power by corrupting the newly created Adam (Leslie Charles Roy Jr.) and Eve (Alina Bolshakova). Chaos, quite literally, ensues.
Collaborating with several ensemble members on the choreography, Talmadge crafts a production that crackles with energy and liveliness, imaginatively employing both acrobatics and ballet to tell this time-honored story in strikingly innovative ways. When his Satan plummets from Heaven to Hell, the moment becomes a staggeringly powerful gymnastic act that utilizes chains and spins — during which Talmadge elegantly conveys the agony of the drop as well as the distance his character is traveling. Later, as Adam and Eve are gradually corrupted by Satan's wiles, Death and Sin come dancing on, dressed as a perfect couple from 1950s Americana, except they start to beat and rape each other — behavior which imprints on Adam and Eve as they eat the Sinful Apple.
The movement is enhanced by Adamczyk's artful computer generated video images, which virtually become characters themselves. There's something magical about the way the performers stretch out their arms and whole worlds bloom on the screen behind them, as if from the dancers' fingertips. Credited co-composers Alysia Michelle James and Bernie Sirelson's electronic score, which accompanies the various tableaux and computer imagery, is suitably hymn-like, and creates a church ambiance.
It would be quite easy for this material to come across as evangelical or overly mawkish, but the ensemble hit just the right note as they explore Milton's notions of the genesis of evil from pride and envy. First rate performances are offered by all, but Talmadge's evolution from an angelic to a leering Satan is particularly compelling — and so are Adamczyk and French as Ma and Pa God (though it may be best not to ask why God is a couple).
Greenway Court Theatre, 544 N. Fairfax Ave, Los Angeles; Fri.- Sat., 8 p.m; Sun., 7 p.m.; through April 2. (323) 673-0544 or www.greenwaycourttheatre.org/paradiselost. Running time: 70 minutes.