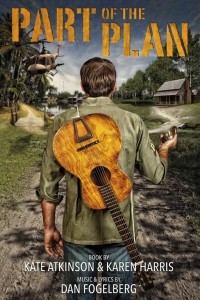 ---
With a donation of $40 or more,
you will receive an invitation to be in the audience of this very special presentation of PART OF THE PLAN, You will choose from one of six performances in the last two weeks in July, as long as seats remain available. There are only 99 seats per performance, so please act quickly on your contribution. Please donate generously and receive multiple invitations.
*Because space is limited, we cannot guarantee a seat for every donation.  Therefore, invitations to see Part of the Plan in person will be sent out in the order in which we receive your response, and will continue as long as seats are still available.  
Greenway Arts Alliance is a tax exempt 501(c)3 non-profit organization.
If you would like to send a check to support this project, please mail to:
Greenway Arts Alliance
544 North Fairfax Ave.,
Los Angeles, CA 90036
Put the following in the memo line:  POTP MUSICAL

A FUNDRAISER for GREENWAY!
A FUNDRAISER FOR
Greenway Arts Alliance
& Fogelberg Foundation of Peoria
as they join forces to present
A NEW AMERICAN MUSICAL
PART OF THE PLAN
Book by Kate Atkinson & Karen Harris
Music & Lyrics by Dan Fogelberg
PART OF THE PLAN is a New Musical – an original story scored with the music and lyrics of the late, celebrated, singer-songwriter Dan Fogelberg. The book, written by Kate Atkinson & Karen Harris, follows three decades in the lives of an adopted boy and the teenaged girl of privilege who was forced to give him up.
PART OF THE PLAN takes us through the boom times of post-World War II America, the social and sexual revolution of the 1960's, and the political upheaval of the 1970's.  And then fate steps in…
Our vision is to present a powerful story, told with heart and passion, and to bring Dan Fogelberg's music to a generation who may not know his work, to those who may have forgotten his artistry, and to the die-hard fans who long to hear his music in all forms. 
Six Performances in Los Angeles!
THE LAST TWO WEEKENDS IN JULY
Performances will be the last two weekends in July
FRIDAY, July 24 – 8pm
SUNDAY, July 26 – 7pm
THURSDAY, July 30 – 8pm
FRIDAY, July 31 – 8pm
SATURDAY, August 1 – 2pm
SUNDAY, August 2 – 7pm
Once you donate, you will receive an email
so that you can choose one of the performances to attend.
From the Part of the Plan team:
"We are entering a new stage in the development of our Broadway-bound musical. With the support of Greenway Arts Alliance and Fogelberg Foundation of Peoria, you have an opportunity to see it in a workshop-style environment, before we take it to a regional theatre."
For more info on Part of the Plan musical, please visit our website.
www.danfogelbergmusical.com