DATE COMING SOON! | PERFORMANCE at 8PM
SIGN-INTERPRETED PERFORMANCE & TALK BACK (ASL)
POST-PERFORMANCE talk back w/ panel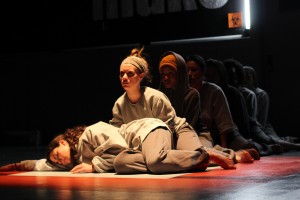 Join cast members of the world premiere play SWARM CELL and local performing arts leaders as they discuss visibility, access, and opportunities for all types of audiences and artists. How do we answer the call by providing everyone with an active role in the performing arts and entertainment? Representation in the arts is currently a huge hot topic and we want to explore what the word "diversity" means to a variety of individuals that make careers within the field.
What has been done? What can we do more of? Who do we want to see more of? Why does a diverse representation of human-beings and experiences matter?
SWARM CELL, a play starring an all female cast of Latina and African American women that challenges audiences to take a look at their world and answer the questions "Are you a queen bee or a worker bee?, or "How does I become we?," is the ideal backdrop for this conversation.
Join us for the sign-interpreted performance and post-show talk-back. DATE COMING SOON! Get $10 General Admission Tickets with the code TALKBACK.