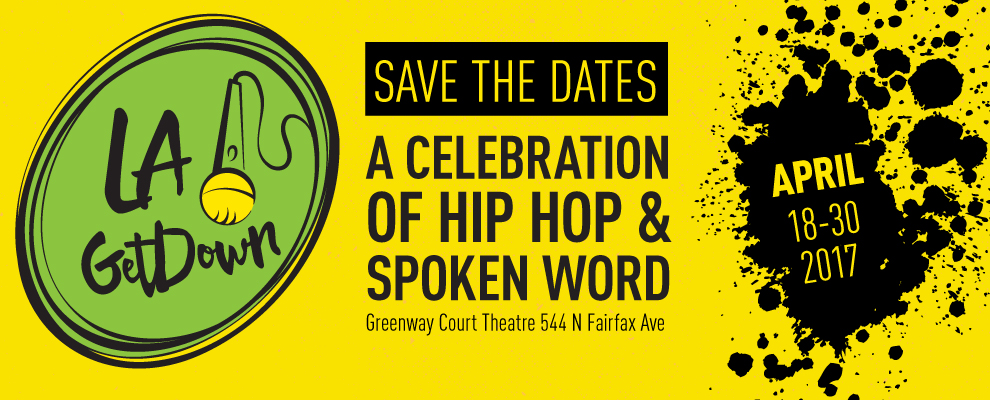 2017 FESTIVAL SCHEDULE
All Workshops and Performances $10 EXCEPT
Da Poetry Lounge Tuesdays (Tickets Available at the Door Only)
Melrose Trading Post Sundays ($3 admission to MTP gets you into the event)
inkSlam Invitational – $20
 All-Access Passes Available
$70 gets you into EVERYTHING
Under 25? $25 gets you into 5 events!
(Excludes DPL and inkSlam)
PERFORMANCE SCHEDULE
Tuesday 4/18 @ 9 pm
Da Poetry Lounge Slam Finals with Special Musical Guest Sanura
Wednesday 4/19 @ 8 pm
Movement Towards Freedom: Voices Of Struggle Hosted Matt Sedillo
Thursday 4/20 @ 8 pm
Ink'd Out: Stories from the LGBT Hosted by Yosimar Reyes
Friday 4/21 @ 8 pm
Da Poetry Lounge Founders' Night Featuring Dante Basco, Shihan Van Clief, Poetri Smith and Brutha Gimel Hooper
Saturday 4/22 @ 8pm
Bridging The Gap: Legendary Poets
featuring Luis Rodriguez and Kamau Daoud
Sunday 4/23 @ 1 pm – Melrose Trading Post
Youth Showcase 
Tuesday 4/25 @ 9 pm
Da Poetry Lounge Community Open Mic 
Wednesday 4/26 @ 6:00 pm
Free Community Mixer followed by
Venue Caravan to Our Mic for the premiere of heartstorms – tickets available at https://www.eventbrite.com/e/our-mic-presents-heartstorms-tickets-33478960472
Thursday 4/27 @ 8 pm
Chingona Fire Hosted by Angela Aguirre and Yesika Salgado featuring Alyesha Wise and Aman Batra
Friday 4/28 @ 8pm
Don't Talk About It, SP!T About It Written and Directed by Alex Alpharoah 
Saturday 4/29 @ 5 pm
The Poets' Round Table
Saturday 4/29 @ 8 pm
inkSlam Invitational
Hosted by Shihan Van Clief
Sunday 4/30 @ 1 pm – Melrose Trading Post
Youth Showcase 
WORKSHOP SCHEDULE
Saturday 4/22 @ 1 pm
Expand Your Story On The Page:
Facilitated by Beau Sia
Participants will take an aspect of their story and through various exercises layer the depth of their story such that it is specifically theirs and resonates beyond who they are because all stories are simultaneously the individual and the all.
Saturday 4/22 @ 2:30 pm
Expand Your Story On The Stage:
Facilitated by Arianna Basco
Most perfomers learn a method to express themselves. many performers thik that that is the only way to express themselves. In this workshop, participants will engage in exercises to free them form this rigid idea, allowing them to see their performance can reflect the full range of who they are and not just the aspect they're celebrated for.
Saturday 4/22 @ 5 pm
Queer Writes: Workshop for folx from the LGBT Community: Facilitated by Edwin Bodney
Friday 4/28 @ 5 pm
Intro to Party Rocking DJing 101 Intensive Workshop
Facilitated by Brutha Gimel If you're a beginning DJ or have interest in learning the craft of DJing, this is the workshop for you.
This 90 minute intensive will include:
Hand son tutorial on getting to know your mixer and decks.
Blending songs form deck to deck. (side to side)
How to build a set form the opening to the peak to the closing set!
This is the intro to party rocking!
Saturday 4/29 @ 1:30 pm
ReBrand: The New Business of Spoken Word Facilitated by Taalam Acey