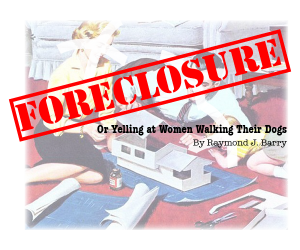 Greenway Court Theatre Presents:
FORECLOSURE
Or Yelling at Women Walking Their Dogs
By Raymond J. Barry
Tickets $20
Senior (60+)/Student $15 Must show valid ID
Buy Tickets
OPENS: January 2017
CLOSES: February 2017
PREVIEW: See "Buy Tickets" link.
TIMES: See "Buy Tickets" link.
FORECLOSURE
Or Yelling at Women Walking Their Dogs
By Raymond J. Barry
When an aging couple learns they are losing their house due to the Wall Street mortgage scam, unemployed bricklayer Hubert (Raymond J. Barry), and his homemaker wife Mildred (Judy Jean Berns), are faced with destitution and homelessness.  Their adult, unemployed son Herman (Joseph Culp), an eccentric, unsuccessful painter who depends on his parents for food and shelter announces to his parents he is having an exhibit of his art. His father berates him, unleashing a furious family battle over the realities of work, money and the value of art in the struggle for survival.
Veteran actor/playwright Raymond J. Barry (Born on the 4th of July, TV's Justified), offers a new play that questions the meaning of work, the value of art and the survival of family in a time of economic crisis.
Cast
Raymond J. Barry
Judy Jean Berns
Joseph Culp
Creative Team
DIRECTOR  David Robinson