Thursday, April 27 @ 8 pm
Chingona Fire
.
Noun. The alchemy that occurs when bad ass women of color come together and set shit aflame.
Hosted by Angela Aguirre and Yesika Salgado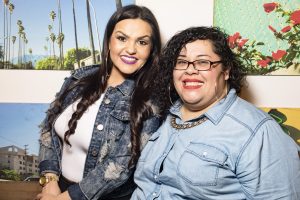 Together as Chingona Fire (a Latina feminist poetry collective), they curate monthly poetry events for women of color, featuring women of color and produced solely by women of color. It is their mission to create space and visibility for our community we have grown to call The Chingonas.
Come, join us in setting the world aflame.
Angela Aguirre is a Los Angeles based poet and teaching artist who enjoys utilizing her creativity in meaningful ways. A teacher by nature, she has a talent for working with teens. She is best at recognizing "teaching moments" and using them to cultivate dialogue that encourages them to explore their thoughts and feelings through writing.
Yesika Salgado is a Los Angeles based Salvadoran poet who writes about her family, her culture, her city and her brown body. Yesika has shared her work in venues and campuses throughout the country. In 2013 she published her first collection of poetry titled The Luna poems. She is a member of the 2014 and 2016 Da Poetry Lounge Slam Team and placed top 10 in the nation both years. Her work has been featured in Latina Magazine, Univision, Vibe Magazine, Neon Magazine, Huffington Post, Buzzfeed and many other digital platforms. She is the Co-founder of the Latina feminist collective Chingona Fire, a Huffington Post contributor and recently released her second collection of poetry titled WOES.
Featuring Alyesha Wise and Aman Batra