SANTA-THON 2017, Hosted by Fred Willard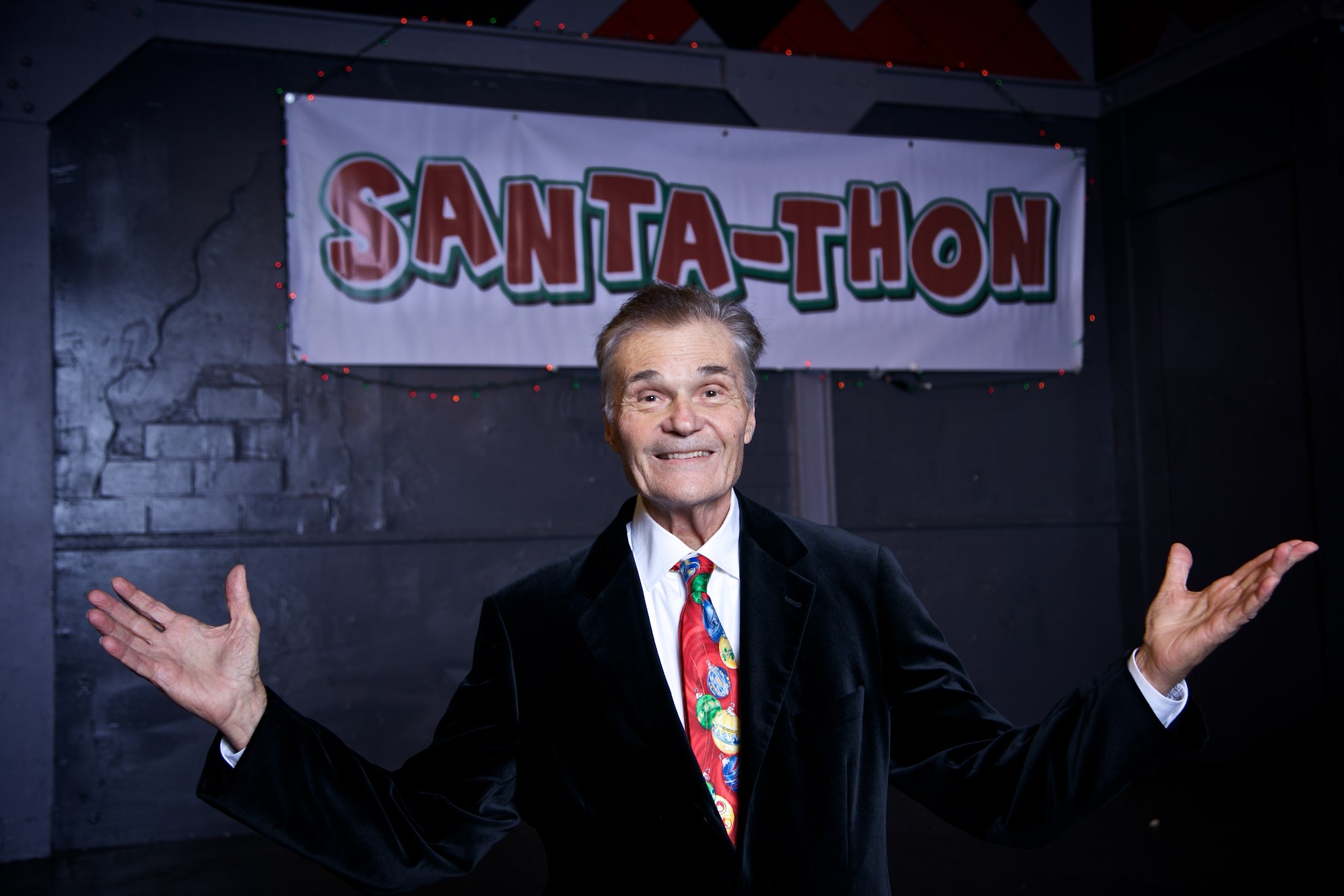 With Special Celebrity Guests
5th Year Anniversary Event
Santa-thon 2017, hosted by Fred Willard, featuring Special Celebrity Guests, is celebrating its 5th anniversary with two shows at the Greenway Court Theatre, 544 North Fairfax Avenue, Los Angeles, Wednesday and Thursday, December 6th and 7th, 8pm. Box Office: (323) 673-0544.
There's trouble in the North Pole. It seems Santa outsourced all the toy making to the Chinese this year and now he desperately needs money to pay them off. No money, no toys. And if there are no toys, well, there won't be a Christmas!
Enter Award-winning funnyman Fred Willard. Fred will host a "Celebrity Telethon" to try and raise enough money for Santa to pay off the Chinese, making sure there'll be toys for all the girls and boys.
Fred enlists the assistance of his Big Time Show Biz pals to join him and do whatever it takes to raise the money for Old St. Nick.  It is a night of comedy, musical numbers, special guest performances, sketches, and surprise celebrity cameos.
Will they be able to raise enough to save Christmas? We'll know when we check the Final Toteboard!
Some of the many previous Sant-thon guests include…
The Lampshades – Kate Flannery (The Office) and Scot Robinson (Anchorman), Jo Anne Worley (Broadway, Laugh-In), Ted Lange (The Love Boat), Jerry Minor (Community, SNL), Jay Johnston & Bob (Tony winner "The Two & Only", SOAP), Tom Kenny (voice of SpongeBob), Todd Sherry (Grace & Frankie) and Heather Olt (Baskets),  Judy Nazemetz (The Tonight Show with Jay Leno), Nikki Glaser (Not Safe, Comedy Central), Jimmy Brogan (Carson, Letterman, Conan), Todd Glass (The Todd Glass Show), Henry Phillips (Comedy Central), Chris Fairbanks (Almost Genius, Conan), Jim Wise (Carpool Karaoke), Illeana Douglas (Modern Family), Wayne Federman (Tonight Show Starring Jimmy Fallon), Paul Willson (Office Space, Cheers), Paul Greenberg (Chelsea) and Jackie Harris (Curb), Bil Dwyer (Children's Hospital), Edd Hall (The Tonight Show, Letterman), Phillip Wilburn (Conan), Marvin "Dreidel Top" Silbermintz, (The Tonight Show), Miki Yamashita  (LA Opera, The Tonight Show), Eric Gorfain (The Section Quartet, Gilmore Girls), Chris Chelko (Best Time Ever), Lou Wagner (Raising Hope,CHiPs), and Jay Leno.