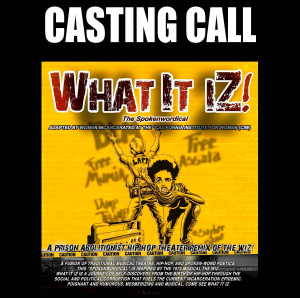 Seeking Union and Non-Union Singers/Rappers/Poets/Actors of All Types for the following roles:
DOROTHY: A teen searching for life in the stars.
THE WIZ: A man in his 40's serving a life sentence.
MA/EVILESE: A single mom in her 30's/Envy incarnate.
ANITA/ASSATA: Dorothy's BFF/A paranoid revolutionary.
PETO/PLATINUM: Dorothy's other BFF/Rapper of the Year.
DEACON/SMOOTH: Ma's BFF/A hustler fresh out of prison.
MAYOR/JUDGE/OBC: A mean soul drunk off his own power.
OBB/BEAUTY/STAGE MANAGER: The belligerent narcissist.
EYE AM/BAILIFF/DJ: A mystic guardian angel in disguise.
NARRATOR/SCALPER/CO1: Storyteller/Agent of The System.
REPORTER/SCALPER/CO2: Shrewd Journalist/Mr. Status Quo.
REPORTER/NEWSCASTER/HYPEMAN: Frustrated Journalist/Wack MC.
MOVEMENT SPIRIT/DIVA DANCER/CREW: The Show-stealing Chorus
Adapted by ten incarcerated artists in a creative writing workshop at the oldest women's prison in the state, the California Institute for Women (CIW), WHAT IT IZ is a prison abolitionist, hip hop theater and spoken word remix of The Wiz.  The spring performances at Greenway Court Theater benefit programs serving incarcerated youth at BJN Juvenile Hall – where workshops based on the production, engaging human rights and transformative justice, have inspired an oral history project and college course using theater to develop legislative proposals. Producer will be applying to Theatre Authority for use of Equity performers in a benefit performance.
Email casting@greenwayartsalliance.org for an appointment
Audition slots available Wednesday, March 28, 6-9 pm
Monday, April 2, 2-5 pm
Four rehearsal in April
Two Performances (Staged Readings) April 27th and 28th, part of the LA Get Down Festival
BACKGROUND: In the early 1900s, L. Frank Baum imagined a world where money did not exist and women were all powerful.  More than 100 years later, a new generation of creative visionaries has its own fresh take on that wonderful world called Oz.  This 21st century urban parody remixes Baum's classic and the 1970s Broadway musical-turned-motion picture "The Wiz" – starring Diana Ross, Michael Jackson, Richard Pryor, Lena Horne, with music by Luther Vandross and Quincy Jones.  The film inspired the writing of this play as much as the Broadway hit before it, which featured Stephanie Mills, André De Shields and Phylicia Rashad.  The early development of WHAT IT IZ included stage readings and workshop performances at the Nuyorican Poet's Cafe and American Place Theater in New York City, the Longwharf Theater and Yale Theater in New Haven and at Harvard University. The west coast debut performances sold out during opening weekend in spring 2017 at the Los Angeles Theater Center in downtown LA, and opened the inaugural "Beyond the Bars LA" conference calling for strategies to bring about the end of mass incarceration.
THE REMIX: For more than a century, audiences worldwide have enjoyed the tale of the Tin Man's search for a heart, the Scarecrow's search for a brain, and the Cowardly Lion's search for courage.  This time around, Dorothy is transported from the disco era into a new millennium facing terrorism, police brutality, government corruption, music industry shenanigans, street hustlers, new world technology, and the world's largest prison population.  Meet a notoriously sexist "Platinum" rap star longing for self-love; a small-time hustler named "Smooth" whose lack of knowledge of self keeps him from being smooth enough to avoid repeat arrests for the same crime; a paranoid Black Panther wanna-be "Assata" in search of self-determination after barely surviving the 9/11 suicide attacks.  This adaptation transports Dorothy's journey from the Bay area of 1979 to LA in 2017.
WHAT IT IZ fuses the soulful, musical style of the '70s hit with the urban lyricism of hip hop and spoken word poetry.  Critics compare the show to the Tony Award-winning "Def Poetry Jam on Broadway" and "Hamilton" which have introduced traditional theater goers to the adrenalin-injected idioms of hip hop and spoken word.  Directed by the creator and performer of the Harry Belafonte produced "Lyrics From Lockdown," critically acclaimed poet, actor and prison activist Bryonn Bain, the production is written in the verse of our time by a group comprised of formerly and currently incarcerated artists, Blackout Arts Collective (BAC).  This grassroots arts/activism coalition spearheaded the early development of the show while bringing performances and workshops to prisons in 25 states nationwide.  An award-winning network of artists, activists, and educators, BAC has used the arts and culture to catalyze action around critical issues in innovative ways to inspire social change since 1997.  Dramaturgy by Disney fellow and NYU drama professor Michael Dinwiddie, and Lincoln Center iconoclast Imani Douglas, this production pays homage to a timeless classic while providing a launchpad for dialogue and action around mass incarceration and its impact on our families and communities using subversive verse, beats, rhymes and comedy.